Episodes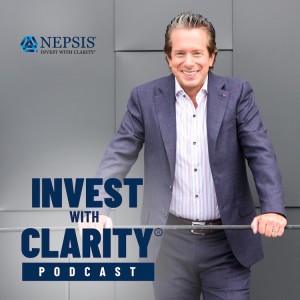 Wednesday Mar 29, 2023
Wednesday Mar 29, 2023
Our industry tells us recessions and bear markets are ruthless for investors and should be gravely feared. While fear is never the optimal feeling, this just pushes people to avoid taking advantage of this dip in the market that could ultimately lead to a number of benefits. 
In this episode, Mark Pearson is joined by Chuck Etzweiler in this two-part mini-series to discuss how you can take advantage of volatility and use it as a tool to help your investments. Together they discuss the importance of investor comprehension on the value of their investments and understanding how to Invest With Clarity®. 
Mark and Chuck discuss: 
Getting acquainted with processes in a downmarket for future understanding

A deeper look into tax loss harvesting

The importance of investors understanding the value of businesses 

How long-term investments are beneficial during this time 

The Nepsis

®

investing strategy and how it can work for you 

And more
Resources: 
Connect With Chuck Etzweiler:
Connect with Mark Pearson: 
About Our Guest: 
With more than three decades of investment industry experience, Chuck Etzweiler, MBA, CIMA®, CFP®, CMT directs the ongoing research efforts of the firm, much of which help both advisors and clients understand the philosophy and strategy of Nepsis, Inc. in a deeper manner. 
A high percentage of the focus of the research is centered around money manager pitfalls, investor shortcomings and repetitive behavioral biases that detract clients from earning optimal returns.